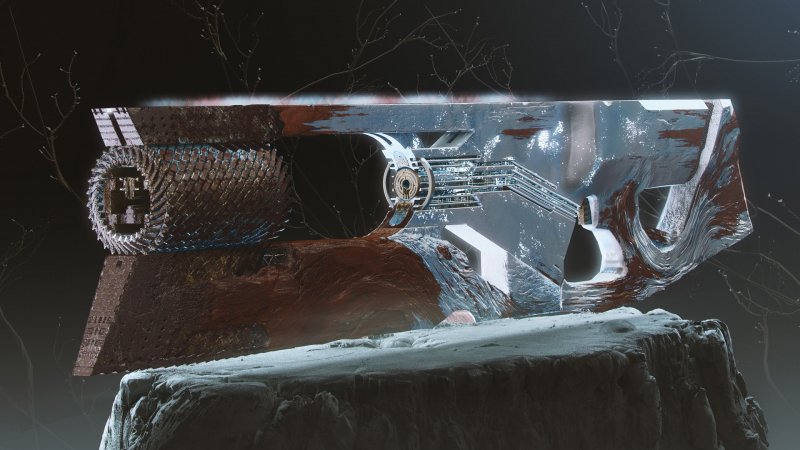 Ruinous Effigy Exotic Trace Rifle
Season Pass Required? Yes
The Exotic quest to get Ruinous Effigy is called Growth.
There are 5 steps to this Quest:
Missive
Gift
Pendulum
Feed
Shape
Lore Reading from Exotic Quest:
"Hidden chatter tells of ancient Light bubbling to the surface, coaxed forth by the Pyramid's reshaping of our worlds. Furthermore, Savathûn's scouts chase the Pyramid like hungry dogs. She chains their will with ritual and spell-craft. Destroy them. Let the branch consume the Marionettes' bound essence and stabilize it by consuming calcified fragments. My incantations will coopt Savathûn's binding ritual and link the Pyramid's gift to you." —Transmission from Eris Morn
Step 1: Missive - Visit the Prismatic Recaster in the Annex of the Tower near the Drifter.
This is to just pick up the Exotic Quest for your inventory.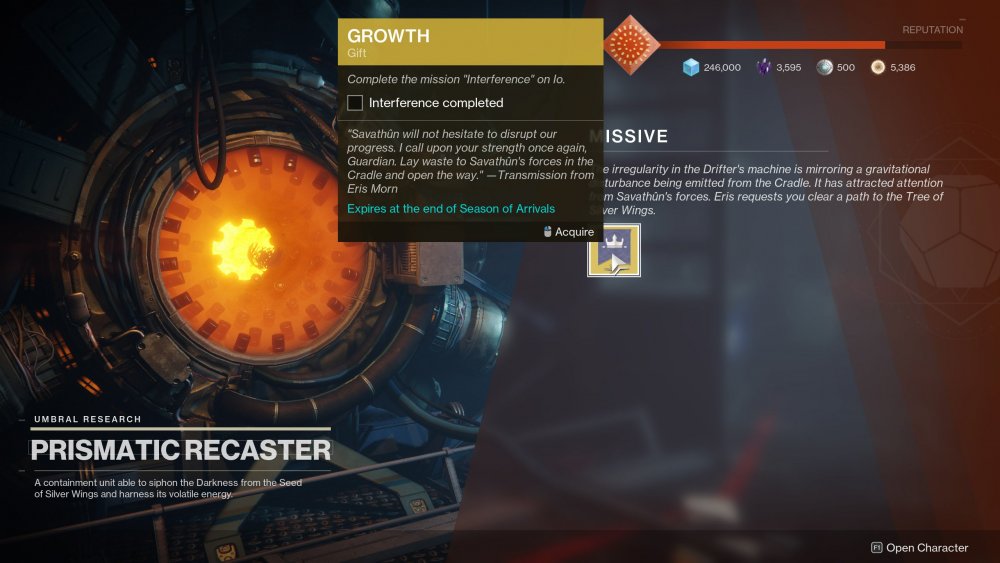 Step 2: Gift - Complete the mission "Interference" on Io.
This step is straightforward enough - you just have to ensure you work towards the second step on the Weekly seasonal quest (Means to an End) which will allow you to access this mission. At the end of this step you will will Accept the 'Gift' next to Eris.
Step 3: Pendulum - Collect Calcified Light fragments on Io, Titan, Mars, and Mercury using Ghost's Nav mode. Defeat Savathûn's Marionettes on Io and Titan. Eris believes the Pyramids offer a gift in a form we will understand: weaponry. But the branch seethes with an unstable Darkness.
There are two parts to this step.
Finding 25 Calcified Light
Defeating 15 Savathûn's Marionettes
Calcified Light
You have to the following Light fragments that are scattered in the following locations; 10 on IO, 5 on Mercury, 5 on Mars and 5 on Titan. Once you are within 200m within the fragments, you can pull out your Ghost and it will show them on the map for you to pick up.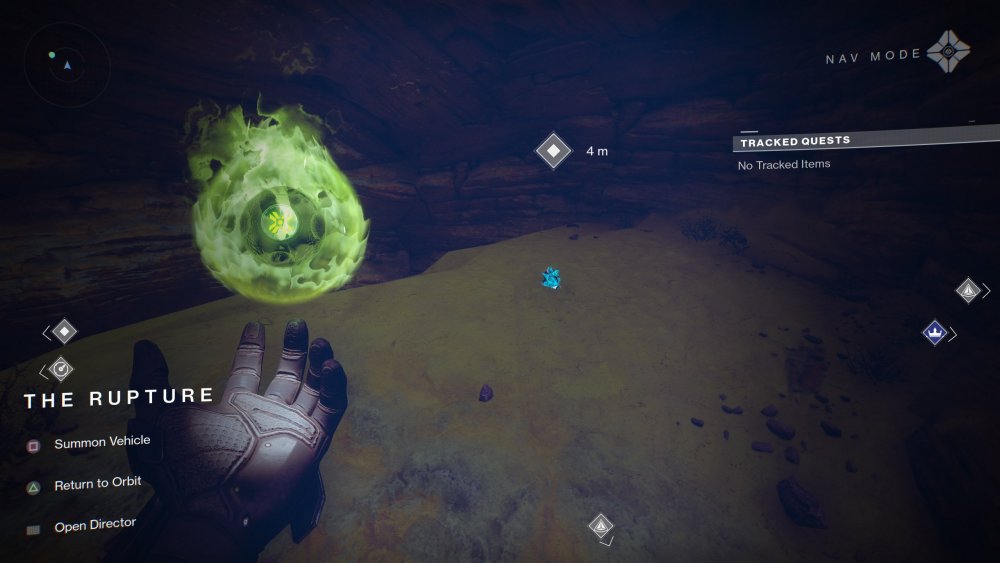 Currently, this video by Thyme has got all 25 Calcified Light's all found for you if you need some support:
Savathûn's Marionettes
These are named Champions that you can find 2 separate ways. You must get a shot on them in order for the kill to count towards your progress:
Mini versions of the new Seasonal Public Event (Contact) bosses spawn in random locations on the Pyramid affected planets. They will be mentioned in the bottom left of your screen when they do spawn in. Kill these bosses and then some Marionette's will spawn in afterwards
They also spawn in as part of the 'Contact' Seasonal Public Event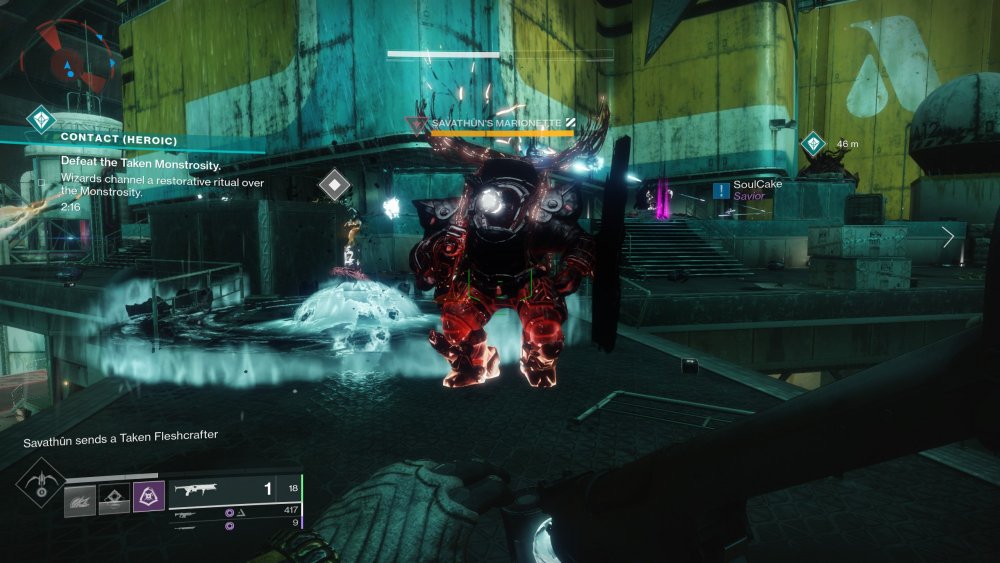 Step 4: Feed - Defeat targets with Void damage, chain precision multikills, and complete Gambit or Reckoning. Higher tiers of Reckoning and defeating invaders/defeats as an invader grant additional progress. The branch, though tempered and bound, still has a ravenous emptiness at its core. Find power on which it can feed.
This consists of 3 parts; each part to this step do not have to be completed together, however you will save some time combining where possible.
1000 Void Kills
25 Precision Multikills
Play Gambit or Reckoning (100% completion required)
To achieve 100% on the third step, the progress breakdown is as follows:
Invasion kills = 5%
Gambit Prime Match = 50%
Tier 3 Reckoning = 33%
Gambit Normal Match = 33%
Tier 2 Reckoning = 22%
Tier 1 Reckoning = 17%
Step 5: Shape - Decrypt your Gift at the Umbral Decoder. The branch is sated and bound within an engram formed from Eris's incantations. The Gift is ready to take its true shape.
The decoder to the left of the Drifter will now offer you the Ruinous Effigy Exotic Trace Rifle! This is an extremely unique Exotic that you would be stupid not to complete!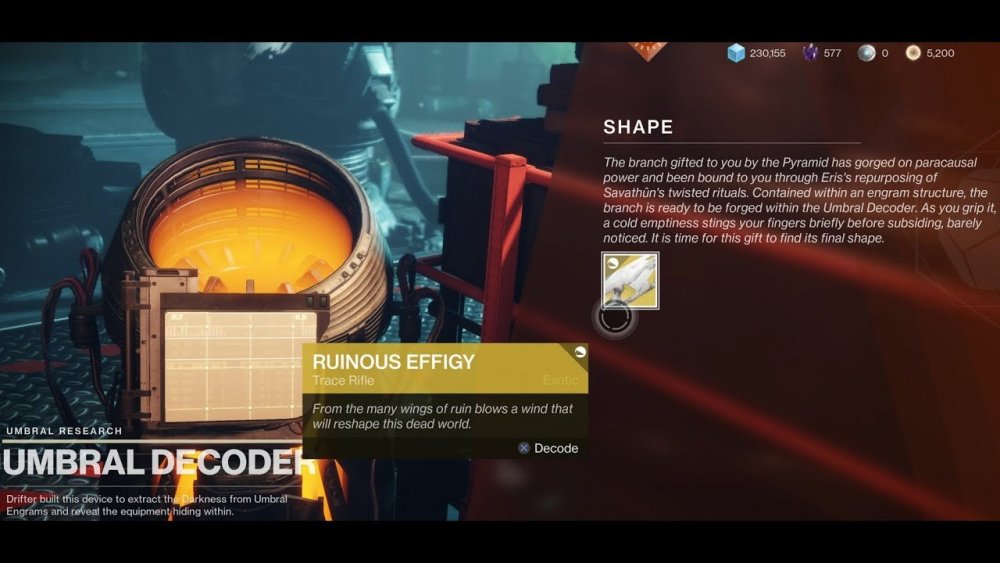 Good luck FGers
GGFG
Edited by GazzaGarratt