Race 1 - 4 laps Fuji Gr4
Fuji is quite a technical track with some tricky tightening radius and off cambers corners with the first half being faster with flowing corners and the last sector being all slow and tight corners.
Qualifying
Due to some technical issues this week - the pit out bug - qualifying had to be stopped and restarted.  After the re-start the real qualifying began unfortunately Lee was still unable to leave the pits but we bravely carried on regardless.  @JBR-Kiwi was considerable faster in practise and carried this to qualifying with his first lap being over 1 second faster than Mike who took provisional second spot with myself in third followed by Shucker, Tom, Bones, Phil and Lurch.  Everyone was up to their pace quickly so there was little change over the rest of qualifying with the exception of Pete who improved his lap to move up to provisional third then further improved to take second on the grid.
Race
Following on from last week, we continued using a grid start rather than a rolling start which caused Pete some problems as he got too much wheel spin off the line and started to drop back. Paul @slamminbones and @phil bottle both ran deep in to turn 1 causing a knock on effect of pushing some cars wide.  One of which was myself and I rejoined at the back of the pack with the aim of recovering as many positions as possible which was helped by Matt @Misneach_ kindly pushing Paul wide at turn 4 making it easy for me to gain 2 places.  Though this was soon undone due to Gary @techno   who used my car as a brake a couple of times through the final  sector putting me almost to the back again.  At the lead end of the start finish straight, @Shucker firmly in Phil's tow misjudges his braking zone and pinballs in to Phil causing him to run wide but due to the tarmac on the outside of turn 1, Phil gets a good run and manages to stay ahead in to turn 2.  The pack had become reasonably spread out by this point however Mike @Mikepjbell and Kiwi continued to have a brilliant battle for the lead over the remaining laps with Mike taking the lead in to turn 1 of lap 2 but Kiwi soon re-took his position at turn 4 of the same lap and Mike sticking one up the inside of the final corner to again retake the lead.  Though due to the length of the straight, Kiwi manages to draft up to Mike and take his lead at turn 1 of lap 3.  Over lap 3 Kiwi and Mike swap places several times which allows Tom @LordBaguette to catch up and join in the battle with Tom managing to briefly get passed Mike around turn 3 of the final lap though Mike soon retakes this as they go through turn 4.  This fighting slows them down meaning Shucker also is in the fight for the final half a lap but sadly this is ended as Tom runs wide at the hairpin at the start of the final sector and in cutting the grass infield gets reset costing him a podium.    Pete had also managed to catch up to Shucker and with the finish line being a considerable distance down the straight, manages to draft up to Shucker with them finishing just 0.05 seconds apart.
Results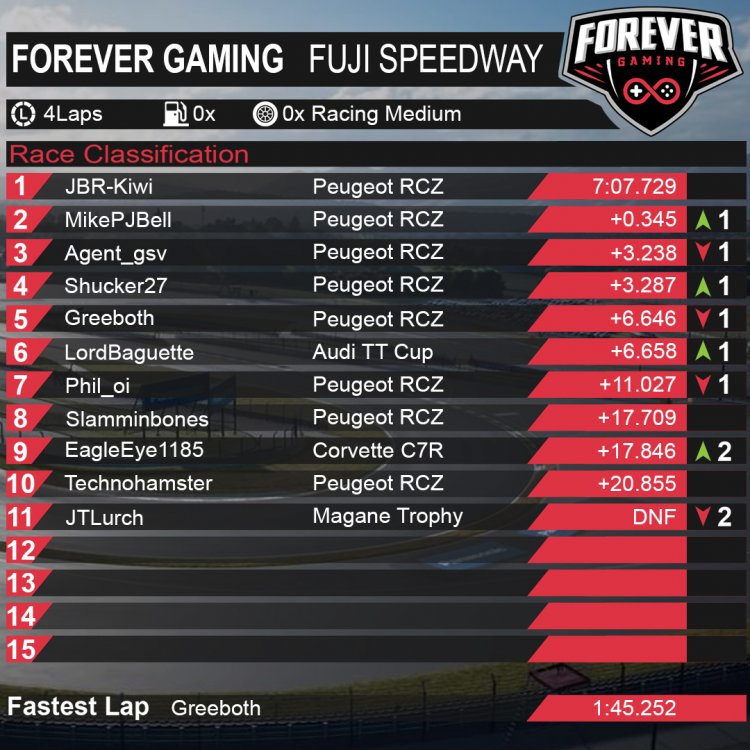 Race 2 10 laps Monza no chicane Gr3
Monza is a world famous track for it's heritage and speed with it's long straights separated by chicanes.  In the layout raced this week though we skipped the first chicane meaning Curva Grande became turn 1.
Similar to last week, the grid for the second race was a reverse order of the finishing positions of the first race so there is no qualifying report.  Both the Medium and Hard racing compound tyres were available to use though the rule was that at least 1 lap had to be done on the hard compound tyre. 
Race
Again we used a grid start rather than a rolling start which has the benefit of keeping the pack far closer together than using a rolling start.  Without the first chicane it opened up the possibility of managing to sort ourselves out ready for, what is normally, the second chicane.  This didn't happen!  Due to the various speeds of people getting off the line and the run down to Curva Grande being so long the tow became important with the cars lining up 4 wide on the run to turn 1.  This didn't end well going a few small nudges through turn 1 saw Gary , Paul and Tom run wide in to the gravel but manage to recover and carry on.  @Lurch wasn't so lucky though as his trip through the gravel ended up with a spin and being parked sideways in front of Lee @GazzaGarratt.  @crispymorgan kept it clean and managed to hold on the lead though running wide in the first chicane and then coming out of the first Lesmo left me with an easy pass for the lead.  As it turns out the Lesmo's were a problem for a few people during the race with Lee, still struggling to get used to his wheel, becoming the second victim as he got out of shape through Lesmo 1 and spun hitting the inside barrier.  Kiwi had close the gap to me in the lead and using the tow down the start finish straight took the lead which I didn't fight too hard as I had picked up a time penalty and I knew I could use the tow from Kiwi to serve my penalty without losing any actual time.  Matt also manages to get a slight tow on Paul going down the start finish straight and has an attempt for a pass in to the first chicane but a massive misjudgement of his braking point saw him run clean over the chicane with the game resetting him giving Lee and easy pass though Matt closely follows Lee up to the Ascari chicane but failing to retake his position.  Lee on the charge at this point puts in a couple of fast lap to catch up to Paul on the following lap and manages to draft passed him going through turn 1 to take fifth place.  Unfortunately for Lee he becomes a victim to Lesmo 1 again costing him a couple of places as Pete and Paul move up the order.  I briefly take the lead from Kiwi down the straight though this is soon reversed at the chicane - at this point I'm reasonably confident Kiwi is on medium tyres and will need to pit whereas I decided to the whole race on the hard compound so won't need to pit so I decide to just follow Kiwi rather risk a pass or lose too much time fighting.  This is undone through as going through the Ascari chicane I get a snap of oversteer running the kerbs costing me time and allowing Mike @Mikepjbell to have the run on me down to Parabolica to take second though this reversed as I get a small tow on to the straight and re-pass Mike through turn 1.  Mike then becomes the next victim of the Lesmo's as he runs wide costing him time and allowing me to have some breathing room to catch back up to the leader, Kiwi.  I get a good run on Kiwi out of Ascari though he only leaves me with outside line for Parabolica which is a difficult pass.  A bit of door to door rubbing ends as Kiwi, as well as Mike in third, peal off to do their pitstops (much to Mikes disguist that I would use such a tactic).  Kiwi exits the pits with a few seconds lead over Mike though due to a mistake through Lesmo 1 and running wide through the gravel and grass, Mike has a run up to Ascari.  Mike takes the inside line and takes second from Kiwi but unfortunately runs a bit deep as Kiwi pulls a switch back and retakes his second place which manages to hold on to until the end of the race.  The final victim of the Lesmo's is Paul who on the final lap, with a chance to catch Matt, runs wide and spins at Lesmo 1 then rejoins and runs wide on the exit of Lesmo 2 also.
Results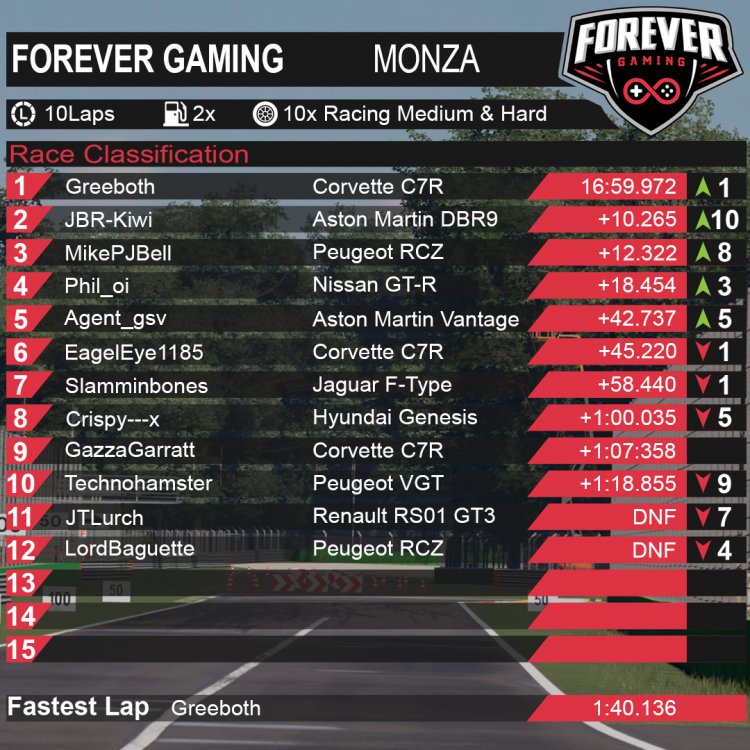 Race 3 6 laps Blue Moon Bay Infield N200
We've done the oval of this track before but decided to try the infield version that has a few more corners than turning left all the time.  The track has a small number of corners with an especially tricky turn 1 due to the bump in the braking zone as you come off the banked oval section.
Again, the grid for this race was decided as a reverse of the finishing positions of the Monza race.
Race
Lee decided to really push the boat out for this race and try manual gears on top of also using his wheel.  This cost him slightly at the start as he forgot to change gear off the line though for the most part Lee, and everyone else, got off clean meaning we were all bunched up through turn 1.  Phil got nudged slightly which Mike was quick to defend that it wasn't him this time though Mike made up for it by then hitting Phil at turn 3.  Lee runs wide at the hairpin giving Kiwi an easy pass up the inside as Gary also follows Lee wide though in Gary's case this was helped by Tom.   Lee follows Kiwi out of the final corner and on to the oval section and with the help of the tow, makes a move down the inside for turn 1 but brakes late and runs wide in to the barriers of the outside of the corner.  This fighting leaves Paul with a small lead much to his own and Mike's surprise but with Kiwi in second and myself in third it was going to be fun to find out how long he could hold the lead as the gap gets smaller over lap 2.  At the end of lap 2, Phil gets in a 3 way fight with Pete and Gary and unfortunately gets switched back on through the final corner and run in to the wall on the outside of the oval.  By this point Kiwi and I had managed to close in on Paul in the lead with Kiwi making his move through turn 3 causing Paul to lose some speed.  I try to take advantage though I get caught out and have to take to the grass to avoid crashing in to Paul as I misjudged the overspeed I had.  The fight continues down to the hairpin where sadly Paul gets a bit to eager and a snap over oversteer sees him get a slow exit allowing me to take second.  While this is going on, Crispy, Matt and Gary are all very close and soon they're joined by Phil, Macca and Lurch for all 6 of them to run nose to tail through turn 1.  It's all kept clean though Crispy forgets which corner he was at and brakes unnecessarily costing him some places.   As they get to the hairpin, Lurch runs wide on the grass dropping him out of contention.  Matt also runs a little wide but managed to keep it on the black stuff until Crispy, who is also running wide due to Macca on his inside, has some contact with Matt and spins him out.  This leads on the final lap as Kiwi and myself start the final lap side by side on the oval as Kiwi takes a wider line through turn 1 to get ahead but I keep my car alongside to have a move in to turn 2 but fail to make the pass until Kiwi runs wide in turn 3.  Though Kiwi makes quick work of recouping the place at the first hairpin which I attempt to make the pass at the second hairpin.  Due to some dodgy ghosting, we pass through each other with Kiwi in the lead but on the outside for the final corner with me on the inside but with only my nose along side.  We try to make it through the final corner but Kiwi, in a repeat of Phil's earlier accident, gets run out wide in to the wall.  As I had so little alongside I should have backed out of the final corner so I lift off to give Kiwi the place back and for him to take the win.  Paul managed to keep in front of Mike also to hold on to third which I believe is his first podium so congratulations!
Results